If you could see the pile of books strewn haphazardly across my bedroom floor, you would understand why I'm doing this in two parts. I've recently renewed my library* card membership and have taken full advantage of all the free books., plus one or two I bought but hadn't got round to reading. Over the last few months I've been on a reading purge and decided a book post was long overdue.
*Side note:- How wonderful are libraries?! What a resource. I didn't even have to pay for my card. Go to your nearest one and give it some love.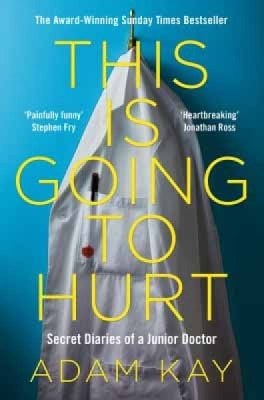 Adam Kay's This Is Going To Hurt is an honest look into life on the NHS as a junior doctor. It's raw, funny ('Home birth is for delivering pizza') and a fair representation of the ridiculous struggles doctors and nurses face just for doing their job. You'll walk away with a new respect for the NHS, and a smoldering rage for the Health Secretaries who by all appearances are waging a lifetime vengeance on all hospitals and its staff.
The book is based on a series of diaries written between 2005 – 2010 following Kay's career as an obstetrician from Junior Doctor to Senior Registrar, culminating in an event which ultimately called time on his career. Kay doesn't waste words; everything is direct and to the point, so it's no surprise it's been a best seller and due to be televised by the BBC. If you appreciate wit and want more of an insight into the ups and downs of working on the  NHS, I'd wholly recommend.
 I love Neil Gaiman: American Gods, Good Omens, Norse Mythology – all brilliant. He writes mythical fantasy in a very detailed but accessible way, leaving you with the impression he has researched extensively before writing. Norse Mythology is a collection of ancient Norse Myths told in no particular order. Nothing links the individual stories barring characters, in fact they frequently contradict each other. However the writing is captivating, literally pulling you in to the world of Asgard and the capricious nature of the Gods. I smashed through this in two days.
I will never forgive American cinema for ruining The Girl on the Train, but I like Paula Hawkins enough to continue to read her work. Into the Water was a fine enough read. It tells the story of a woman's death in the local 'drowning pool' and the investigation surrounding it. Like The Girl on the Train the narration is unreliable so the reader is constantly questioning the truth, but I think it lacked the pull of her best seller. There was just something missing… with The Girl on the Train, you were guessing until the end, but personally I felt like Into the Water wasn't as challenging to work out.
It's still worth a read if you like Paula Hawkins, I'm possibly being too judgmental, after all this too is a best seller so what does that say.
This one is an audiobook that was recommended on Twitter. A gritty book indeed, not something you could have playing in the background for minimal concentration. Ackroyd is a phenomenal scholar; it is packed full of historical information ranging from London's embryonic form to present day. All facets of life are covered from the micro to the macro, from popular children's games in the 19th Century, to burial pits of the plague (if you're a Londoner, chances are you're walking over bodies on your commute).
There aren't enough adjectives to describe what a historian Ackroyd is, and how well he translates his findings into succinct prose. It is a meaty read/listen, but incredibly interesting. Plus, Simon Callow's voice is like rich velvet sliding all down you.
This last one may come as no surprise to some of you – you know how much I love a good travel book. I picked this up in a gem of a bookshop on a whim and have really enjoyed reading it. It's packed full of fantastic short stories from travel writers such as Porochista Khakpour and Ann Patchett, detailing particular journeys people have taken which have left a lasting impression on them. Each one is individual and written in the authors own style but reads well. My only niggle with this is that there's a misprint on P.152 and entire pages to a story are missing and we are left to guess the conclusion. In fairness, The Lonely Planet did respond to my Tweet and asked me to contact their team, but I no longer had the receipt so didn't bother.
Monthly Reads | Part 2 will be coming up within the next week, so keep an eye out.